104-year-old Percy, alongside best friend and care nurse, Laura Hagan, have continued their annual tradition of dressing up as famous twosomes for Halloween.
The pair became very close during Percy's time at Whitecraigs Care Home in Thornliebank and put up some fierce competition as they took on the home's costume competition together for the fourth year running.
They have continued to wow fellow residents at the Renaissance Care home, as they illustrated the meaning of 'You've Got a Friend in Me' last year as Toy Story's trademark Woody and Buzz-Lightyear. The year before, they dressed as Harry Potter and Hermione Granger, while they debuted their duo as Mary Poppins and Bert the Chimney-Sweep in 2018.
Every year Percy and Laura put their heads together to come up with a new idea for Halloween costumes which they can do together, managing to keep the final decision a secret from fellow residents and staff members until the big reveal at the annual Halloween party.
This year, they showed a preference to treats over tricks as they donned a matching costume from Willy Wonka and the Chocolate Factory. Centenarian Percy was the enigmatic Willy Wonka himself, complete with his walking stick as a candy cane, while Laura dressed as an iconic Oompa Loompa.
Laura, Clinical Lead Nurse at Whitecraigs Care Home, said: "Each year, Percy and I keep our famous double act under wraps and aim for costumes to be bigger and better than the last. However, due to the size of our chocolate factory props, it was difficult to keep it a secret this year, but it was still a pleasure seeing the other residents smile and laugh, it's worth all the effort."
Percy's daughter, Doreen, said: "I love that Whitecraigs Care Home have all these events and they all get to participate. Special thanks to Laura who has, for the last four years, dressed up with my dad Percy as a team. It's great for us as a family to see our Dad enjoying himself and proving that at 104 you can still have fun and we see him enjoying himself."
Percy, who went viral in 2020 for his TikTok dances, found his friendship with Laura to be the golden ticket to enjoying his retirement at Whitecraigs Care Home.
Pictured: Percy and Laura dressed up as Willy Wonka and an Oompa Loompa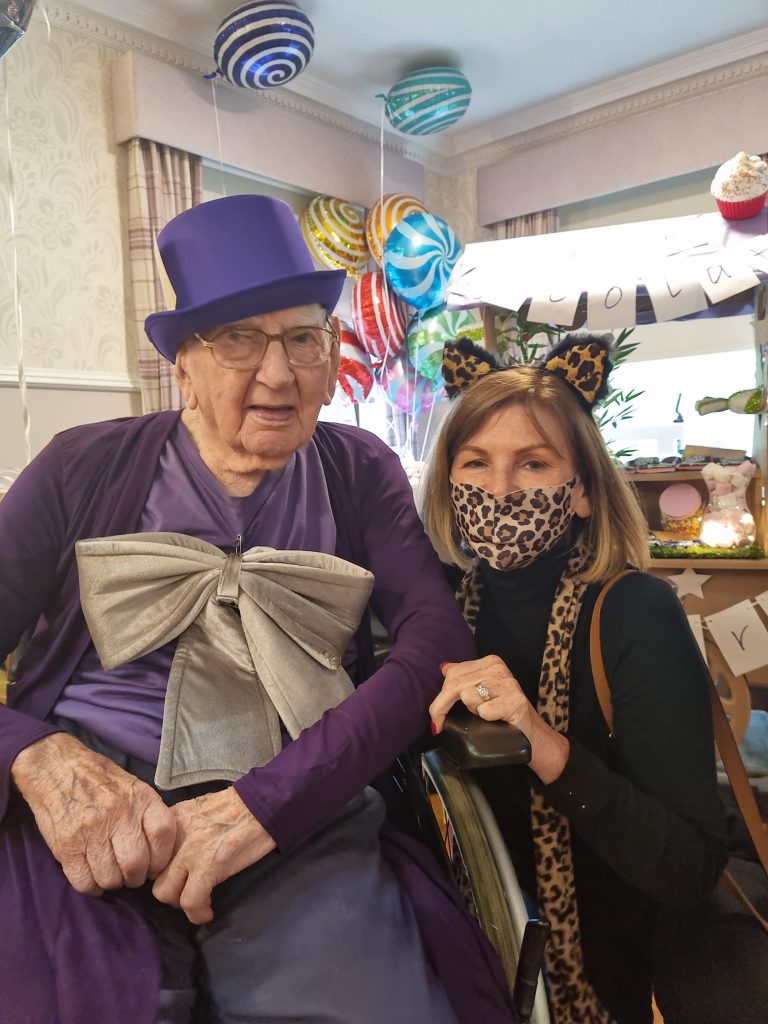 Pictured: Percy with his daughter Doreen