At Boclair Care Home, the residents have discovered a newfound passion for art, thanks to the initiative led by their Activity Co-ordinator, Scott Grier. Scott, a retired architect and a skilled painter himself,  who has painted many wonderful paintings and raised phenomenal amounts of money for charities close to his heart. He recognised the residents' fondness for arts and their love for Glasgow's art galleries. Inspired by their enthusiasm, he encouraged them to explore their creativity.
Engaging deeply with each resident, Scott discovered their unique styles and approaches, empowering them to express themselves through painting, sketching, and even clay modelling kelpies and dogs. For many, this was their first venture into the world of art since their school days. Scott initiated the creative process by providing paints and paper, which led to the creation of some amazing artworks.
Boclair Care Home celebrated its first birthday, and in anticipation of this joyous occasion, Home Manager Maxine Kinnoch proposed transforming the lounge into an art gallery, showcasing the residents' creations. This artistic transformation not only became a focal point in their café bar at the reception area but also enchanted visitors and residents alike.
Among the talented individuals at Boclair is James. James had a hobby of painting water colours for many years, however his progressing Alzheimer's has  meant that his painting hobby was left untouched until he came into the care home. James painted some wonderful landscapes in his past and with reduced motor skills he still manages to paint some outstanding landscapes.
The Ocean by James Gorman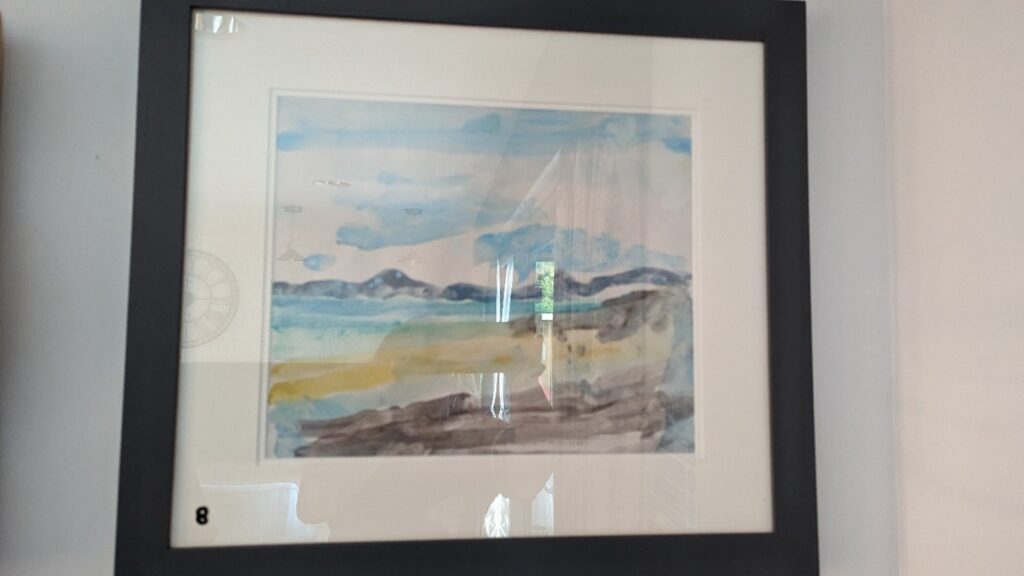 Meanwhile, Ella used to paint the "odd thing" but took the paper and brushes, showing the most immense concentration while painting. Ella has a wonderful sense of humour and has named her pictures with names to suit her personality. She titled her artwork of a hydrangea "A Pink Riot" as does not believe in her talent.
A Pink Riot by Ella McKerrow
Ella painted the artwork below to recall her days as a child in Dumfries and Galloway, many a happy memory shared. Ella recently has been working on a painting, commissioned for a staff member of her childhood memories.
Childhood Memories by Ella McKerrow
Ella painting
96 year old Ken, had never drawn in his life but his work has similar style to David Shrigley (who has made millions though his 'basic' artwork). This piece is called the 'Wonky Donkey' as it was drawn the day of the Scottish Grand National.
The Wonky Donkey by Kenneth Campbell
Next up is Joan, who is an amazing artist. She is registered blind and has only minimal vision in one eye with a prosthetic eye since early childhood. She draws and paints her pieces through memory. Joan continues to draw still life and faces, but also has a love of trees and hills. Joan was previously an art teacher but since having a stroke, she felt that she would never be able to draw or paint again, having this class has given her huge purpose and she is delighted to share her pictures.
A Wonderful Stranger by Joan Johnson
Paddington Bear is an old favourite and Boclair's home mascot which sits in mangers office. Dot, who is 99 ¾ years young,  sketched this wonderful bear while eating his marmalade sandwiches with a well-deserved cup of tea
The Mascot by Dorothy McNaught
The team at Boclair would love to make these into post cards or greetings cards available to purchase. The artistic journey continues, with weekly sessions dedicated to nurturing these masterpieces, reminding everyone that creativity knows no age or limits.