HC-One, The Kind Care Company, is working with Burns Gym to provide all its 328 care homes with functional exercise classes via Zoom, after a successful three-month pilot across 32 care homes.
Robi Roccella, HC-One Head of Quality of Life stated:
'The pandemic has posed unprecedented challenges that have undoubtably affected the people we support and our Colleagues' wellbeing. The importance of movement and keeping active has never been greater than during the coronavirus pandemic. Therefore, as part of our Wellbeing Programme, we have worked very hard to find new and innovative ways to keep people engaged in meaningful activities that could stimulate their body, mind and soul.'
'One of the successful initiatives has been the pilot project we run in collaboration with Burns Gym. We are now really excited to be making these exercise classes provided by Joe and Tony Burns available to all our homes.'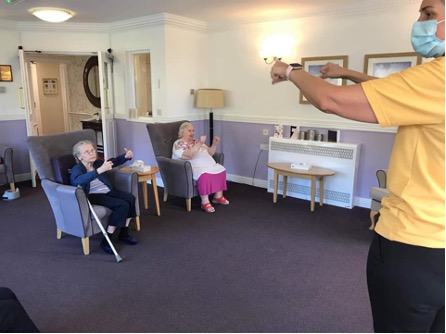 Beaconsfield Court Care Home, Barnard Castle
The feedback throughout the pilot has been simply amazing in terms of the benefits brought to our Residents and Colleagues, the level of interaction and engagement and the positive impact on people's physical and mental wellbeing.
Redesdale Court Care Home, North Shields
Our Wellbeing Coordinator, Morag Whyte at Barleystone Court in Falkirk said:
'I was delighted to be asked for our care home to participate in a pilot project with Joe and Tony Burns. I offer physical activities to our Residents on a daily basis. However, the thought that we could take part in activities that also provided a social opportunity truly appealed to me, given the fact that we are able to exercise with Residents from other HC-One homes. 
'At first, only four Residents joined the class every 2 weeks. However, they were so enthusiastic that the session grew in popularity and we now have 8 Residents attending these classes, which is the maximum we can have to allow for social distancing.  We have now also increased our participation to once per week.   
'I have personally learned so much from Joe and Tony and I continue with these exercises throughout the week. The Residents love to see themselves on the screen and wave to the other participating homes. We also had a birthday shout out to Mary, our Resident who loves participating.  Mary always comes looking for me on a Wednesday and has commented that she always feels so much better after joining in and tells everyone what a great thing it is to take part in.  
'David is another of our Residents who regularly exercise with the Burns brothers. His family is overjoyed that he is leaving his room to take part in these sessions and they call him every Wednesday to remind him to go. David has found the classes to beneficial to his physical health and his mood has improved as a result of this.
At HC-One our focus is on Wellbeing rather than just activity. We tailor our daily schedule to include activities that will stimulate not just the body, but also the mind and soul of the people we support. The Zoom sessions with Burns Gym cover all aspects of wellbeing and I would highly recommend them to everyone. I am over the moon that the pilot has been a success and look forward to many more sessions with them, even after we have come out of this pandemic.'
Residents at Barleystone Court enjoying a Burns Gym exercise class via Zoom
Another participating home has been Cradlehall care home in Inverness where Wellbeing Coordinator, Sandra McIntyre stated 'It is amazing to see how our Residents have adapted to Zoom through regular calls with family and friends, online concerts and engagement with the community.   
'Our Residents truly enjoy the Burns Gym classes as the music, fun and high level of interaction make everyone happy, bring a lot of fun and enhance our regular 'Keep on Moving Programme' here at Cradlehall.
'When I take out the tablet a typical comment is 'Here's my boy' or 'Here they are again!' Residents will also comment 'It's the boys from Glesga!' (a local saying relating to people from Glasgow).
'Many of our Residents have connections with Glasgow and this provides an opportunity for us to talk about Glasgow and promote a reminisce activity as well.

'We enjoy connecting with other HC-One care homes as it's so wonderful to meet other Residents and Colleagues.
 'I couldn't speak more highly of Tony and Joe as they always take time to get to know the Residents and address them by name, which makes everyone feel special and increases the level of participation and interaction. In addition to this, they also encourage Colleagues to engage and keep on moving as part of their session.  
'I am not surprised the pilot has been a success and I look forward for these services to be offered to our other care homes across the UK, as this also promotes a sense of togetherness here at HC-One.'
Burns Gym leading an exercise class via Zoom with Cradlehall